Grau Logs and Lumber
a rich history and long standing tradition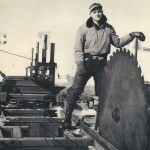 Grau logs and lumber began in 1948, by Robert B. Grau, a graduate forester from Iowa State University. His initial purpose for starting the Grau sawmill was to better connect with Northeast Iowa timber owners. His goal was to create a bond with timber owners, establishing trust, to help them better understand the value of proper management for the future and continuing value of their timbers.
In 1981 Robert's son, Chris J. Grau, a graduate of Luther College with a Business and Biology degree joined the business to carry on the tradition that Robert had begun. Chris works to maintain relationships created by Robert B. Grau while also establishing new relationships to maintain the tradition of proper woodland management. Chris would also go on to modernize the sawmill and equipment to improve production and success of the business. Chris sees the importance of running an appropriately sized sawmill for the area's timber resource.
In 2011, with the intentions of continuing the tradition that has been established, the third generation of Grau's entered into the business. Patrick H. Grau, a graduate of Wartburg College, a Business and Fitness Management major, has been working in and around the mill from an early age. Patrick's creative ideas and enthusiasm have helped expand the business to where it is today. He continues to create new relationships of his own with woodland owners, intent on continuing the practices of Robert and Chris Grau.